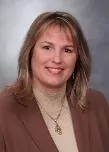 Hello! I am Kathy Guthrie, owner of Controller2Go, LLC. My accounting career began over thirty years ago and my skills and experience have taken me from accounting clerk to full-charge bookkeeper to controller and now entrepreneur. I have had the privilege of working in many industries over the years: insurance, retail, service, medical/dental, manufacturing and real estate. Some were start-ups, some publicly traded, some international.
They all have one thing in common… a well-run accounting department is the foundation necessary to move your business to the next level.
The Controller2Go concept began in 2002 because I wanted to provide financial controller services to businesses that couldn't quite afford a full-time controller. I wanted to give them an "Accounting Department in a Box" concept for a flat fee per month.
Of course, there have been some bumps in the road since then and I have ultimately learned how this can be a win-win relationship for both myself and my clients.